Gifts of Retirement Plans
Click Here for Detailed Explanation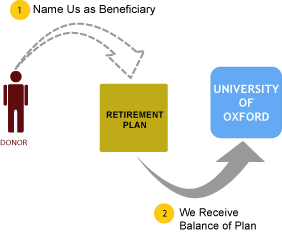 How It Works
| | |
| --- | --- |
| | You name Oxford University as the beneficiary of your IRA, 401(k) or other qualified plan. |
| | Any residual left in your plan at your death passes to Oxford University tax-free. |
Benefits
You can escape both income AND estate tax levied on the residual left in your retirement account by leaving it to charity.
You can continue to take withdrawals during your lifetime.
You can change your beneficiary if your circumstances change.
You can elect to leave retirement plan assets to Oxford University through your will or revocable trust instead.
You can have the satisfaction of knowing that your hard-earned retirement assets will support Oxford University when you are gone.
More

For more information
If you are considering a gift of a retirement plan, email us, complete the personal illustration form, or call us at 212 377 4900.