Appreciated Securities
Click Here for Detailed Explanation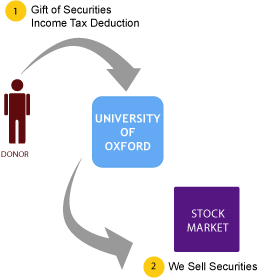 How It Works
| | |
| --- | --- |
| | You transfer securities to Oxford University. |
| | Oxford University sells your securities and uses the proceeds for its programs. |
Benefits
You receive gift credit and an immediate income tax deduction for the fair market value of the securities on the date of transfer, no matter what you originally paid for them.
You pay no capital gains tax on the securities you donate.
You can direct your gift to a specific fund or purpose.
You can have the satisfaction of making a significant gift now or funding a life-income gift that benefits Oxford University later.
For more information
If you are considering a gift of appreciated securities, email us, complete the personal illustration form, or call us at 212 377 4900.